Anzeige der Artikel nach Schlagwörtern: 85 %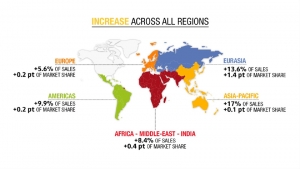 3,76 millions de véhicules vendus, soit une hausse de 8,5 %, sur un marché qui progresse de 2,3 %.

Année record pour Renault, première marque française dans le monde et pour Dacia. Renault est la deuxième marque la plus vendue en Europe.

Renault maintient son leadership sur le segment des véhicules électriques en Europe avec 23,8 % de part de marché.

Toutes les régions du Groupe croissent en volume et en part de marché. En particulier, le Groupe enregistre des ventes en hausse de 13,6 % dans la région Eurasie et de 17,0 % dans la région Asie-Pacifique.

Renault vise une croissance1 en 2018 portée par le développement de ses activités à l'international et par sa gamme renouvelée.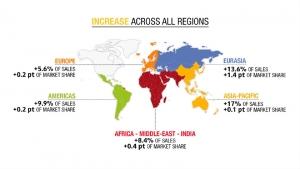 3.76 million vehicles sold, a rise of 8.5% in a market that grew 2.3%.

A record year for Renault, the world's leading French brand, and for Dacia. Renault is the number-two brand in Europe.

Renault remains the leader in Europe's electric-vehicle segment with market share of 23.8%.

All the regions of the group increased both in sales volumes and market share. In particular, the group posted a sales increase of 13.6% in the Eurasia region and 17.0% in the Asia-Pacific region.

Renault is seeking continued growth1 in 2018, buoyed by the development of its international activities and its renewed range.