Anzeige der Artikel nach Schlagwörtern: Third Quarter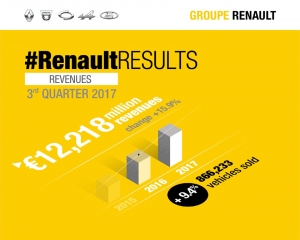 In third quarter 2017, Group revenues came to €12,218 million.

Groupe Renault sales rose 9.4% to 866,233 vehicles in a market that expanded by 3.4%.

In Europe, Group registrations rose 4.9% in a market that grew by 1.4%. Buoyed by the success of New Koleos, ZOE Z.E.40 and the Dacia range, the Group increased its market share by 0.3 points to 9.9%.

Outside Europe, Group sales expanded by 13.5% with strong momentum in the Americas (+14.0%) and in Eurasia (+24.3%).

The Group is confirming its guidance for the year.