Anzeige der Artikel nach Schlagwörtern: Charging
Groupe Renault has joined the E-VIA FLEX-E consortium, the first High Power charging network for electric vehicles in southern Europe.

Under this move, Groupe Renault continues to support the deployment of High Power charging infrastructure across Europe.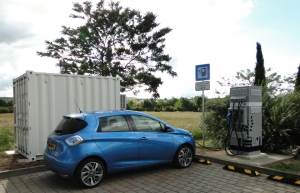 A global first: Groupe Renault and Connected Energy have installed two quick-charge stations that use a stationary energy storage system at highway rest areas.

The innovative E-STOR system developed by Connected Energy uses second-life batteries from Renault electric vehicles.

The partnership supports Renault's global strategy for the energy storage market.